---
LIFTLOCK GUEST HOUSE
---
Liftlock Guest House is rated as one of the best of all Peterborough Accommodations.
Located on Trent Severn Waterway, we are 4 minutes from downtown Peterborough with all the comforts of the big city and peace and tranquility of the country. Our six acres of lawns, trees, brush, water and totem pole is Canada at its best.
This little bit of heaven boasts a relaxing atmosphere as well as fishing, canoeing, swimming and hiking on site. In the winter, the Trent Canal is excellent for skiing, hiking, snowmobiling and skating (weather permitting). We have adequate parking for recreation vehicles year round. A boat launch is located nearby.
Our immaculate, ground-level suites feature private, keyed garden doors. These bright airy suites have pillowtop beds, ensuite baths and mini kitchens. We supply free bottled water, tea, coffee and muffins. Free wireless internet is available in the suites as well as a computer in the dining area. For a small fee home-cooked breakfasts are served beside the fireplace in winter and beside the pool in the summer.
Handicap Suite A ramp leading to Waterview suite makes it wheelchair accessible. Waterview is in a building separate from the home giving you exceptional privacy. Windows, on both sides of the suite plus the private, keyed garden door creates a bright airy suite which generates a friendly welcoming atmosphere.
Our Peterborough Guest House is located close to all the major highways, hockey rinks, hiking trails, shopping, restaurants, and Churches.
Whether it be visiting friends, on business or a vacation, Liftlock Guest House has everything you need for an enjoyable visit to Peterborough Ontario.
Because of special zoning, our resident pets include alpacas and black German Shepherd dogs kept in a restricted area.
---

Liftlock Guest House
810 Canal Rd
Peterborough, Ontario, Canada
K9L 1A1, Tel: 705-742-0110
liftlockbb@gmail.com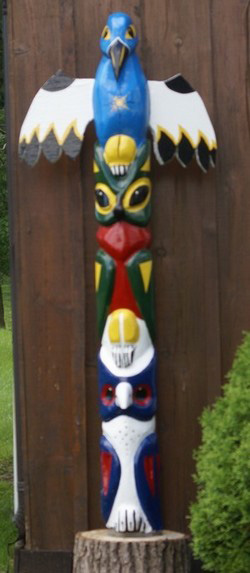 Totem Pole