---
LIFTLOCK GUEST HOUSE IS a COTTAGE
---
Liftlock Cottage is a Two-suite Guest House
When both sides are available, the cottage can be booked by one family or group of people. The cottage is not typical, as the suites resemble high-end hotel suites
The two suites are connected internally with 2 firedoors. When used individually these two suites are locked and are accessed by their own outside entrances. Both suites have screened porches.
The cottage will sleep a maximum of seven people.
WATERVIEW SUITE
The front suite, has a King bed and a Queen size pullout couch. If requested, we can change the King bed to 2 long single ones. Waterview sleeps a maximum of 4 people. Please click the blue links on the suite page to see the suite and appliances/supplies.
PARKVIEW SUITE
This suite faces to the rear and overlooks a large 2 acre parklike area. The neighbouring subdivision is hidden during the summer by the trees. You are apt to see some wildlife like deer, rabbits or raccoons. The suite has a Queen bed and a single bed.
---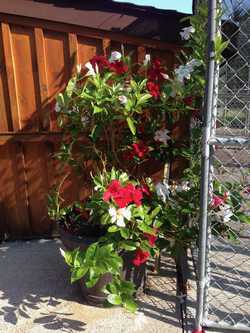 Flowers in Driveway